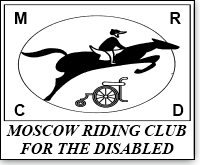 Regional Charity Organization
"Moscow Riding Club for the Disabled"

PARA-EQUESTRIAN DRESSAGE
This kind of equestrian sport is available to people with a wide range of disabilities. An athlete takes part in one of the five levels of the competition depending on the degree of functional disorders.

Para-Equestrian dressage began in Scandinavia and the UK in the seventies of the last century. In 1987, Sweden was the first to conduct the World Cup held in this sport. In 1991, the International Paralympic Committee requested the International Paralympic Equestrian Committee (better known by the abbreviation IPEC) to develop and promote Para-Equestrian dressage worldwide.

At the Paralympic Games in Atlanta in 1996 athletes competed in Para-Equestian dressage for the first time. By 2005 already 38 countries of the five continents were members of the IPEC. In 2006 Paralympic equestrian sport became the eighth of the Equestrian Sports FEI, and IPEC was renamed FEI PE - office of the FEI Para-Equestrian.

Para-Equestrian dressage competitions are conducted in accordance with the Charter of the FEI, the General Regulations FEI, Veterinary Regulations FEI, Rules of Para-Equestrian Dressage FEI, the General Rules of the Paralympic Equestrian FEI, the Rules for Para-Equestrian competition and other rules and guidelines, regularly reprinted by the FEI.

Athletes participate in one of the five levels, which are determined by the extent of disabilities in accordance with the Manual of Classification for International Paralympic Equestrian issued by the Department Para-Equestrian FEI.
For each level of the program exercises FEI Para-Equestrian regularly publishes tests that are mandatory for all competitions held under the auspices of the FEI PE. All rules and guidelines that are directly related to the sport , as well as tests, translated and available on our website (See Russian version), the General Rules can be found on FEI's site in English.


---
HOME PAGE | HIPPOTHERAPY, THERAPEUTIC HORSEBACK RIDING AND EQUESTRIAN SPORT FOR PERSONS WITH DISABILITIES | GENERAL INFORMATION AND ORGANIZATION | EDUCATION | SPECIAL OLYMPICS | PARA-EQUESTRIAN DRESSAGE | REGISTRATION FOR CLASSES
E-mail: rboomkki@mail.ru
The site's host-supported by the Hi-Fi.Ru Company
© Moscow Riding Club for the Disabled 2008-2014.
Translation into English (US): Vladimir Yakovlev.
Web-design: Ilya Shulga.

Some more about the Moscow Riding Club for the Disabled:
Letter from Her Royal Highness Princess Anne
Thanking letter from the British Embassy in Moscow
Letter from the National Federation of Therapeutic Riding (Russia)
Presentation about the Moscow Riding Club for the Disabled.
Photos and articles about the Moscow Riding Club for the Disabled (in Russian)
Videos about the Moscow Riding Club for the Disabled (in Russian)
Integration camps by the Moscow Riding Club for the Disabled (in Russian)