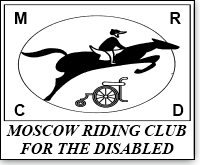 Regional Charity Organization
"Moscow Riding Club for Disabled"

REGISTRATION FOR CLASSES
Classes at the club are conducted for persons with following diseases: cerebral palsy, autism, Down syndrome, mental retardation, blindness, limb amputation, the consequences of the cranial and spinal injuries as well as other disabilities.

Classes are offered in the following areas: hippotherapy, therapeutic riding, equestrian sports. Selection of the type of lessons is determined by the physical needs and wishes of the student.

Classes are held with all age groups. Minimum age is determined individually, the maximum age is not limited.

To register call to mobile +7-916-478-09-98 or write to e-mail 4780998@mail.ru.

Classes are held at the Olympic Sports Training Center "Planernaya" in Khimki, Filino. The center can be reached by taxi from the Metro station of Rechnoi Vokzal or Planernaya. Buses are also available. For more information about the route of travel, as well as schedules please call the above telephone number.
What is hippotherapy and how it is used in the treatment of various diseases can learned from our site "Hippotherapy".
---
HOME PAGE | HIPPOTHERAPY, THERAPEUTIC HORSEBACK RIDING AND EQUESTRIAN SPORT FOR PERSONS WITH DISABILITIES | GENERAL INFORMATION AND ORGANIZATION | EDUCATION | SPECIAL OLYMPICS | PARA-EQUESTRIAN DRESSAGE | REGISTRATION FOR CLASSES
E-mail: rboomkki@mail.ru
The site's host-supported by the Hi-Fi.Ru Company
© Moscow Riding Club for the Disabled 2008-2014.
Translation into English (US): Vladimir Yakovlev.
Web-design: Ilya Shulga.